The name Underwood has been around a long time. Those named Underwood were usually a peaceful group who lived in the woods or on the edge of the woods. This influence has carried us to this day. We are English and Gaelic. Suffolk, England area records show the first time our name was written down.  It was 1188.
We are Underwood… believing in a peaceful existence as we ride the waves of Love and Light.  Inspiration comes from the vibrations of the Planet and Universe. Songs and Poetry are our tools.  Influenced by the vibrations that come from the Clock of the Universe. Songs and Poetry meant to be shared, we create lyrics and music that may not be heard anywhere else, (or not?). 
As far as today… we are musicians with a lot of songs to bring into existence then to be spun around the world.   They may make someone feel good, clear the mind of some and even touch others in ways we can't imagine.
As far as influences go, there's the DNA that passed this fun knowledge on to us. Today… watching how the world moves, how energy moves.  Accepting and going with the ways of NOW…music has changed so much in our lifetime.  Too many bands to remember, so many people passing through.
We named our band Underwood Universe and decided to call the genre Indie AltRock.  Hopefully it will send sound waves forever moving toward someone or something.  I hope they like it.  That's it's purpose.
My earliest recollection of music was at my Grandmother's piano, age 3 pretending to play like Liberace. She hardly ever missed his show, and the Lawrence Welk Show, both of which we watched together when I stayed over. A piano teacher in her earlier years, she taught me enough piano that I was playing in Sunday School before the 1st grade. I guess I liked the attention, because my whole life since, I've been preparing for a show of some kind most every week. Whether it's playing in church, marching/concert band in high school and college, a rock band or theater performance, I've learned how music can help us celebrate or grieve; it can make us happy or sad, and it can heal. I learned playing for people was the most interesting and inspiring thing about music. 
Now in later years, I still find myself preparing for my next gig. I hope the music I create with Underwood Universe can be just as interesting, inspiring and healing, as all the music that I was privileged to growing up. 
Most people are influenced by good teachers.  I am no different.  A great Band Teacher, who, in his early days played in a traveling Jazz band, was the first person to tell me the truth;  the good and bad side of being a Musician.  My English Teacher was the other…she had knack for explaining the language – slang and proper.
I fell in love with words before music, meaning I'm more of a Poet than Musician.  Now the music carries my poetry.  My life has been an interesting one.  I'm a fairly well-rounded person. Where I've landed with these influences is that I'm a kind person with a strong desire to help the World evolve.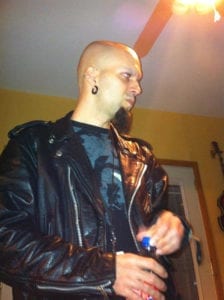 My first time on stage was at 14, doing a guest spot on guitar for a friend's band at the White Rabbit (now called Paper Tiger). I first learned bass, then taught myself how to play guitar, drums, then how to program beats and synthesizers. Under the stage name Suessie Asmodeus, I've played in several bands over the years, including: Excathedral, Emily's Gone Mad, and Bombs Over Berlin. I grew up around music, watching my Dad and Uncle in the studio since as far back as I can remember. It's awesome and funny at the same time performing some of the same songs together that I grew up listening to. The style of music that we play is not the usual style I'm familiar with playing, but I feel that learning a new style will help me grow as a musician… and who better to rock out with then your Dad and Uncle?